I titled my book about how to write a book You've Got the Time because "I don't have time to write" is the #1 excuse I hear from would-be authors for why they can't write their book. You have time to write your book even in the busiest of weeks.
Go with Your Flow
If you want to be more productive, become familiar with your body clock. Go with your flow, not against it.
Figure out what hours are left after your workday is finished. If you work a day job, your remaining hours are in the early morning, late afternoon-early evening, and late night. Those are your choices. Which work better for you?
Your Best Time to Write
If you aren't sure, try them all and see which best fits your flow:
Get up two hours early every morning, stop at a coffee shop on your way to work (we're visualizing a post-Covid time; it will arrive), and work on your book then.
Or, stop in at the library on your way home after work and spend two hours there before completing your journey.
Or stay up two hours after your preferred bedtime and spend that time with your book.
If you can't spare two hours, write for one. One isn't two, but it's not zero either. It all counts.
Record your word output at all times. With Microsoft Word, the word count for your document appears at the bottom left side of the screen. When are you most productive? Once you start counting your words, you can give yourself realistic goals.
Write at Your Day Job
When you work for someone else, you have to keep their hours even when your body clock is screaming otherwise.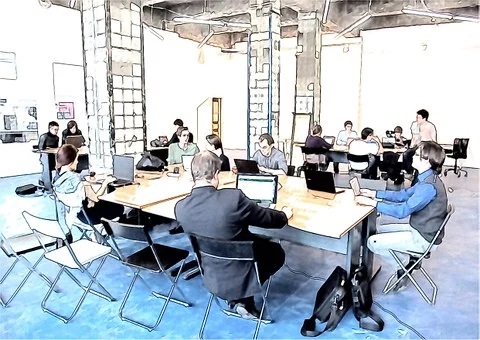 Inspiration that hits in the middle of a company meeting cannot be developed. But you can jot down notes to develop later if you always have a spiral notebook or some other notetaking tool with you ("You Can't Write a Book if You Don't Take Notes") even when you're away from your computer.
While you're at your day-job computer, keep a notes file open but minimized on the screen.
When a thought hits you, jot down whatever portion of it you can in however much time you can snatch to satisfy your own needs on company time. Most likely, by periodically emptying your mind even while at work, your productivity and focus on the job will increase because you will be less distracted by thoughts you are trying to remember for your book.
Write during Lunch Time
Or write during lunch.
Yes, we of the work force learn that lunch time is networking time, and it can be. But your network will understand if you tell them that you're working on deadline — the one you set for yourself.
They'll even give you encouragement, watch the progress of your book along the way, and be the first to buy your book when it comes out.
More tips next week. Stay tuned.
* * *
This piece was adapted from Ken Wachsberger's You've Got the Time: How to Write and Publish That Book in You. For book coaching and editing help, email Ken at [email protected]. Subscribe to Ken's blog here.