Writing a Book Will Transform Your Life.
Writing a book will transform your life. I guarantee it. But the process can be intimidating even if you're already a published author.

So if you're feeling a bit hesitant to begin writing that book in you and you don't know why, or if you just don't know how to write a book, don't be too hard on yourself.

Panic Is Step One
Panic is step one. Congratulations. It means you care.

But what is step two? And how many steps are there?

There are "13 Steps to Successful Writing" and that only gets your book written. Then you have to typeset it and design it and publish it and promote it.

Lesser humans have crumbled at the challenge.

Authors like you and me embrace it.
What a Ride It Is
And what a ride it is.

From that initial fear that you can't do it;
To your slowly emerging confidence as your scattered thoughts find order and understanding through freewriting and research;
To the exhilarating free flow of writing and editing that takes over your life and threatens the bonds of weaker families for short periods;
To life-transforming success and enlightenment.
You Can Write That Book in You
You've got a book in you and you can write it if you want. I can help you. If you've read this far, you know it. You know that writing a book will transform your life. You would even start writing it now if you could let go of the crazy reasons why you think you can't write one:

I'm not a good writer.
I don't know enough about the subject.
No one will buy it.
It won't be interesting.
I don't know how to start writing a book.
I won't be able to find an internationally acclaimed book editor.
I won't be able to get my book published..
And the number one reason: I don't have time.
You've Got the Time
Yes, you do. You've got the time. As your book coach, I can help you find it. And then I can help you write and publish that book in you. That's what I do.
Get your complimentary booklet, You've Got the Time: How to Write and Publish That Book in You.
Contact me today for your complimentary 30-minute coaching session.
But be aware. You are about to transform your life.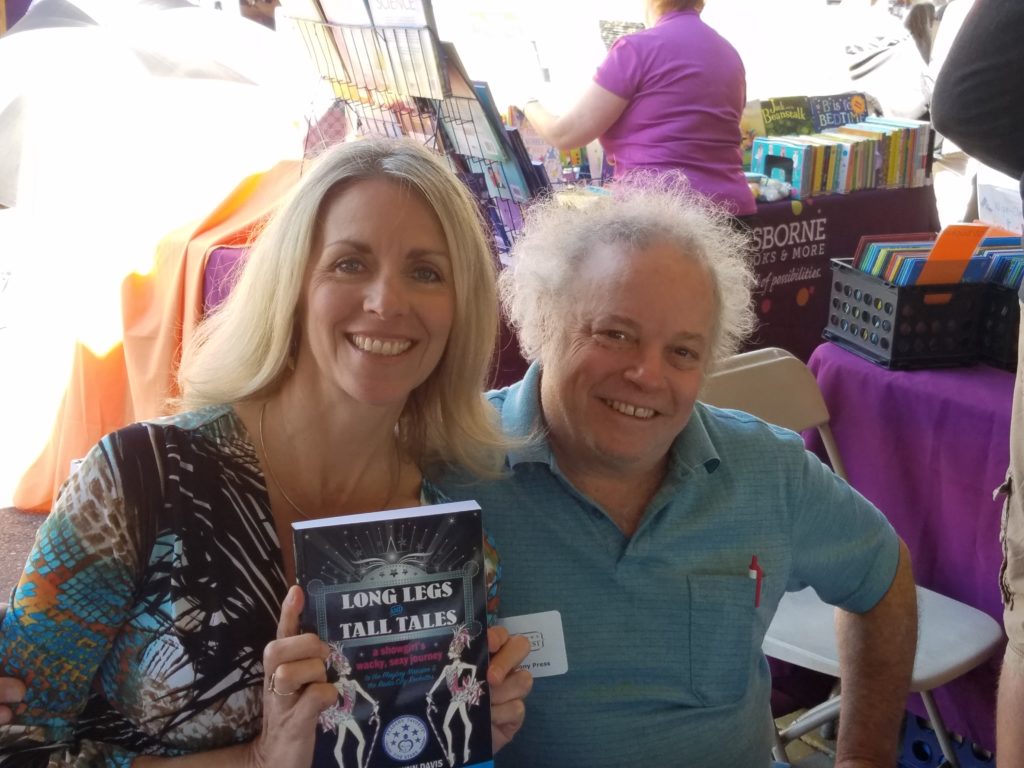 "If any of you are writing a book, go out and get yourself a Ken right away! He held my hand through the doubts and fears, pulled me out of the stuck places, and turned me into a writing ninja!"
— Kristi Lynn Davis, author of Long Legs and Tall Tales: A Showgirl's Wacky, Sexy Journey to the Playboy Mansion and the Radio City Rockettes (pictured on left with Ken).
"Ken, when I began this class I thought that I would simply learn how to write a decent paper — I was very wrong! Your class has given me not only a newly found confidence in my ability as a writer, but also something much more precious—an understanding and maturity that has allowed me to take the steps necessary to develop a healthy relationship with my mom. Through my I-Search project, I realized how important it is for us to be a part of each other's lives. Thank you for giving me the 'nudge' I needed to embark on this search."
– Former student
"I'm so glad I worked with Ken to get my book ready for publishing. His edits were thorough and easy to follow and implement. He helped not only with the pesky grammatical stuff, but also with the flow and content to be sure the writing and order made sense for my reader. I was confident when I sent the manuscript to the graphic designer that it was clean, flowed well, and was enjoyable to read. That peace of mind was invaluable for my mindset and for my sales! Thanks, Ken."
– Anne Bonney, president, National Speakers Association-Michigan chapter, podcaster, author, Get Over It: 47 Tips for Embracing the Discomfort of Change
"You've Got the Time: How to Write and Publish That Book in You contains a wealth of comprehensive information that will benefit both new and seasoned nonfiction book writers. The section alone on contracts and negotiation is critical for every writer to understand. Ken outlines every issue and benchmark in the writing/publication/promotion process – whether you intend to self-publish or to approach a traditional publisher. Every writer should own this book to best navigate the waters of book creation, publication, and promotion. Highly recommended."
– Catherine Holm, award-winning author of the short story collections My Heart Is a Mountain and Voice Lessons,the memoir Driving with Cats, and the cat fantasy novel The Great Purr.